[1]Ved å støtte Israel, deltar kristne i jødisk blasfemi og vil komme under Guds forbannelse og vrede. «Marching to Zion», er en dokumentar av baptist pastoren Steven Anderson som viser at kristne endelig innser at de har blitt lurt av sionister, enten de er kristne eller jødiske.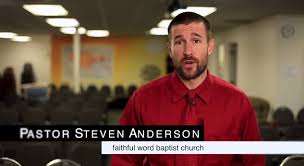 [2] De erkjenner endelig at jødedommen er en satanisk kult maskert som en religion. Den virkelige pakt er mellom Gud og dem, dvs. troende i Kristus.
De ble lurt av Scofield Bibelen som ble finansiert og fremmet av sionistiske bankiere. Kristne sionistiske pastorer som John Hagee, Benny Hinn og Joel Osteen er frafalne og forrædere. Pro-sionistiske amerikanske politikere som Barack Obama, Hillary Clinton, Ted Cruz, Scott Walker og Rand Paul er også forrædere.
Når kristne innser dette, vil de forstå at Dept. of Homeland Security og NSA er der for å beskytte Federal Reserve Bank og det sionistiske politiske establishment fra vreden til det amerikanske folk når de innser at deres land har blitt stjålet fra dem. Terrorisme er et påskudd produsert av CIA og FBI.
Marching To Zion
Rabbier
Den beste delen av denne dokumentaren er Andersons intervjuer med tre jødiske rabbier som avslører seg selv som klovner. Benekter at jødene drepte Kristus. Anderson siterer en bok av en topp jødisk lærd som innrømmer dette er ikke bare sant, men sier Kristus var en «spotter og avgudsdyrker» som fortjente å bli drept!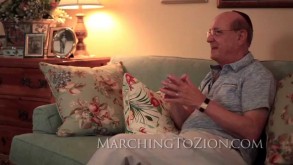 [3] En annen rabbi sier at all moral er relativ. Hvis et samfunn godkjenner stjeling, er OK å stjele. Hva slags religion er dette? Det står sikkert for oppførselen til noen jøder.
Vi lærer at jøder ikke tror på Torah (Gamle Testamentet), og ikke tror på helvete. De avviser Kristus som en «mislykket Messias», og tror den virkelige Messias (dvs. Antikrist) vil være en «stor kriger» som vil beseire jødiske fiender og føre jødiske verdenshegemoni aka «fred».
Anderson understreker at jødedommen er egentlig anti kristen. Undervisning om kristendommen er forbudt i Israel. Kristne kan ikke bli israelere. Bibelen sier Davidsstjernen representerer Moloch.
Ved å støtte Israel, deltar kristne i deres blasfemi og vil lide Guds forbannelse og vrede. Har USA hatt Guds velsignelse for å støtte Israel? Helt motsatt.
Dokumentaren viser hvordan den jødisk satanisme (Kabala) lekker inn i den kristen lære i form av troen på at Gud er androgyn fremfor maskulin. Faktisk er det Baphomet som er androgyn.
Dokumentaren er 1 time og 47 min, men du kan stoppe på omtrent én time merket der det kommer inn en meningsløs diskusjon om slektsforskning, og hvordan vi er alle etterkommere av Abraham. den tiden burde vært viet til hvordan jødene stammer fra khazarene og har ingen krav på Palestina. Israel ble satt opp til å være hovedstaden i det jødisk frimurerske (B'nai Brith) bankiernes verdensrike.
De siste ti minuttene bekrefter at kristendommen er om «et himmelsk Jerusalem» en åndelig verden som vil definere det jordiske riket. Menneskets sanne lykke og frelse ligger i å gjøre åndelige verdier viktig, særlig kjærlighet til våre medmennesker.
Jeg håper alle kristne planlegger å se denne dokumentaren, og får vite sannheten. De fleste jøder har blitt lurt og manipulert i tillegg. De kan også frigjøre seg fra det mentale slaveri som er i jødedommen.
Relatert
Texe Marrs interjuer Stephen Anderson om 'Marching to Zion', Del En [4] – Del To Texe Marrs intervju av Steven Anderson [5]
Nimoy's Vulcan Sign is Invocation of the Devil
http://henrymakow.com/2015/03/Vulcan-Sign-is-Pure-Satanism.html [6]
Kilde
http://henrymakow.com/2015/06/marching-to-zion-exposes.html [7]
First Comment by Robert K
«Let us hope the remarks of Rabbi Reuvan Mann in the video do not elude the viewers' attention. He says the Jewish messiah «will bring the entire world to the proper observance». Here we see a religious incentive for the central planning on a world scale that some hidden hand is vigorously promoting in all countries. He further states that this messiah «will be a great warrior» who «will defeat the enemies of the Jews in a permanent kind of way».
Here we see the Jewish mindset that they are engaged in a perpetual war with «enemies» and the assurance that ultimately the latter will be dealt with terminally. Unfortunately, he is right about the enemies, but they are just people who want to live their lives free of the uniformity and dominance that Rabbi Mann and his confrères believe to be «God's will». In the Grand Scheme they envisage, no one is to be allowed this option.
This is of course diametrically opposed to everything Jesus said and exemplified, which was that goodness is inherently immanent, not imposable, and that the individual must be permitted to choose. It's little wonder that those who want to run every aspect of society (albeit under the pretence of «doing the will of God») rejected his teaching, and continue to reject and to subvert it.»
Second Comment by JJ
Further to your article and Robert K's comment, they admit it themselves that Masciach is to be «a great political leader descended from King David» and «will be a great military leader, who will win battles for Israel«, see below. 'Christian' zionists (an oxymoron) is actually advocating Anti-Christ into position..
Daniel 8: «19 And he said, «Look, I am making known to you what shall happen in the latter time of the indignation; for at the appointed time the end shall be…23 «And in the latter time of their kingdom, When the transgressors have reached their fullness, A king shall arise,»
That is the jewish Masciach, a MILITARY and POLITICAL leader, like Barrabas, the Anti-Christ.
The Mashiach
«The mashiach will be a great political leader descended from King David (Jeremiah 23:5). The mashiach is often referred to as «mashiach ben David» (mashiach, son of David). He will be well-versed in Jewish law, and observant of its commandments (Isaiah 11:2-5). He will be a charismatic leader, inspiring others to follow his example. He will be a great military leader, who will win battles for Israel. He will be a great judge, who makes righteous decisions (Jeremiah 33:15). But above all, he will be a human being, not a god, demi-god or other supernatural being.»
http://www.jewfaq.org/mashiach.htm [8]
Rabbi says 666 – the Mark of the Beast =
«We do know that the number six represents the physical world. ( ) The number 666 could thus represent the strength and perfection of the physical world, which Judaism teaches will occur in the messianic era, when the physical world will reach its ultimate purpose, to be a vehicle through which the created experience the Creator.»
http://ohr.edu/ask_db/ask_ main.php/277/Q1/ [9]
[12]