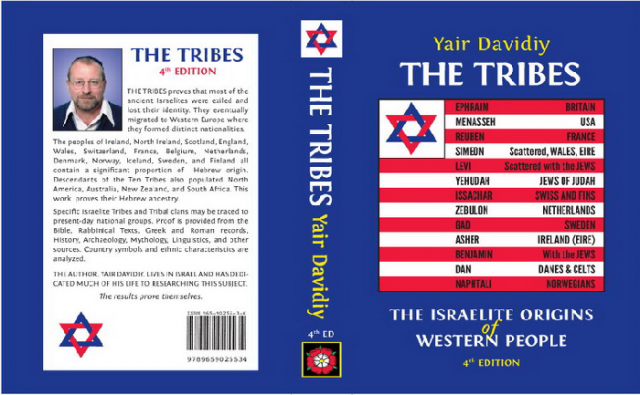 Jeg synest det er et utrolig spennende tema dette at vi her i Norden stammer fra Naftali og Benjamin stamme av det bibelske Israels Folk. Profetiene gis da et mye mer nøyaktig og konsist bilde av virkeligheten, også hatet mot og assimileringen av Israels Barn får et helt nytt innhold.
Mange kristensionister får det nok vondt med selv om eller når den dagen de oppdager at de er forført til å støtte feil Israel, altså landet til khazarkongen Rotschild og ikke folket (etter GT) eller menigheten Israel (etter NT).
Det var 2-3 millioner israelitter med Moses da han førte dem ut av Egypt, så det bør være minst 1 milliard israelitter i verden i dag. Så er det bare 15 millioner 'jøder' i dag, så er det helt umulig at de kunne ha vært etterkommere av alle israelitter. Løftet var at de skulle bli 'mange nasjoner og riker' (1 Mos 17,5-6). Abraham er et hebraisk navn som betyr «far til mange/far til mange nasjoner». Her er Israels Barn;
1. Joseph, Ephraim & Manasseh: United States, British Isles [England, Wales, Scotland, Ireland]
2. Judah: Germany, Austria, part of Poland, part of Switzerland
3. Benjamin: Iceland, Greenland, (Norge).
4. Asher: Sweden, Russia, Ukraine
5. Issachar: Finland
6. Naphtali: Norway
7. Dan: Denmark, Baltic states, early Egyptians
8. Gad: Italy, part of Switzerland
9. Reuben: Holland
10. Simeon: Spain, Portugal
11. Zebulon: France, Monte Carlo, Andorra, part of Switzerland
12. Levi: certainly NOT modern day «Israel»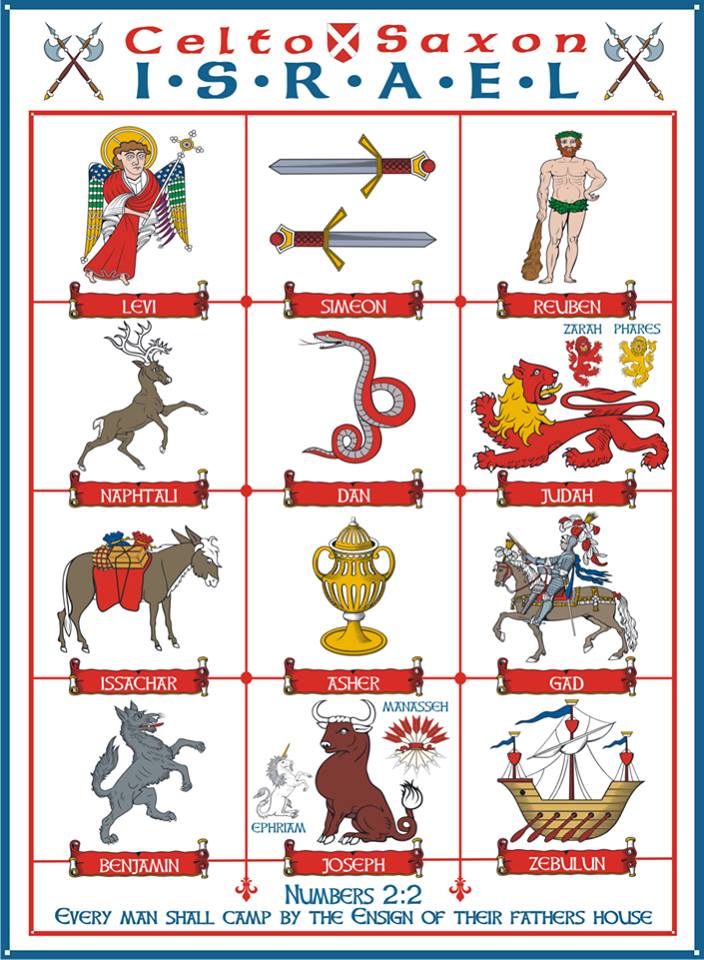 Vi legger merke til den norske løve hos Benjamin stammen.
Israels ti stammer er oss europeere
http://evangeliekirken-arendal.no/israels_10_stammer_er_oss_europeere_del_1/ [1]
Kristen Døssland om Norrøna-folket og deres vandring fra Israel, via Kaukasus til Norden (grunnen til at vi kalles 'kaukasier' når vi skal fylle ut rase i offentlige skjema..
Kristen Dossland – Norronafolket (1949)
http://www.bmonline.no/download/Norronafolket.pdf [2]
«Take away the heritage of a people, and they are easily persuaded.» – Karl Mordechai Marx Levy
En menighet som jeg har nevnt i denne artikkel
Israels 10 tapte stammer
http://www.riksavisen.no/?p=1051 [3]
http://www.nccg.org/gnpk/GNPK-Art-107-Skand.html [4]
Vårt broderfolk i vest
Det ser ut som skottene våkner før normannerne til hvem de er;
Lost Tribes of Israel, Found in the Scottish Declaration of Independence!
Våre frender av de ti tapte stammer av Israel vest i havet, den Skotske Kirke, tar et oppgjør med de falske israelitter.
The inheritance of Abraham? A report on the 'promised land'
http://www.sizers.org/inheritanceofabraham.pdf [5]
Edomånden kan infisere de fleste svake sjeler, men der er et annet moment som skaper litt krøll..
Denne boken fra en israelsk jøde dokumenterer Israels Folk vei til Vesten…
http://britam.org/the-Tribes.html [6]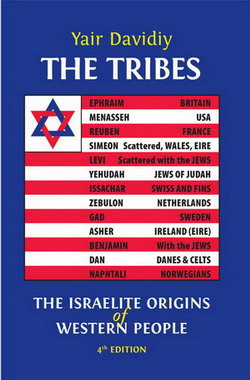 Det er vel og greitt, så langt er vi enig… MEN, så mener han at khazerene er den 13 stammen, at også khazarene var tidligere av Israel, i sin siste bok
http://www.britam.org/Khazarbook.html [7]
For dette at khazarene har Israels blod/ DNA i seg har en annen israels/amerikansk jødisk biolog tilbakevist nylig
http://gbe.oxfordjournals.org/content/early/2012/12/14/gbe.evs119.short?rss=1 [8]
Vitenskapelig Artikkel av Prof. Eran Elhalk om den Genetiske Linken av dagens Jøder til Khazarene…
Min påstand er at edomånden etter Esau som G-d hatet, mens han elsket Jakob, er universell. Egentlig ar folk av alle raser som er Rothschildtro ved sosialismen, kommunismen, liberalismen og humanismen av 'edomånden', helt uavhengig av rase…
Her har disse en interessant bok til
Scandinavian Secrets. The Hebrew Code of the Runes, av Orjan Svennsson
This work proves that in ancient times Israelites settled in Scandinavia.
The author summarizes previous studies that proves this point from archaeological and related historical research.
Previous studies that linked Scandinavian Languages and scripts to those of the Middle East are summarized and explained.
The author then discusses runic inscriptions from a variety of sites and implements. The background history of these examples along with a complete physical description is given in detail.
Photographs and illustrations by the author using sophisticated scientific techniques enable the reader to participate in the decipherment.
It is shown in this work how Runic Inscriptions are similar in form and appearance to scripts known in the Ancient Middle East. It is explained and proven step by step how the earliest examples of runic script, and especially those of southeast Sweden, were actually written in the Hebrew Language or in Aramaic or in a mixture of Aramaic and Hebrew.
Aramaic is similar to Hebrew. Aramaic words are found in the Hebrew Bible. A few of the Biblical Books were written in Aramaic and there were Hebrew Tribes who spoke the Aramaic Language before their exile by the Assyrians.
Orjan Svensson shows how the Israelite authors of the Runic Inscriptions incrypted messages within their script that scientifically prove their Hebrew origins
Men vi skal ikke glemme at det fremdeles er ett vilkår til som skal oppfylles etter den Nye Pakt, nemlig hjertets omskjærelse i Kristus. Uten dette kan en være så mye israelitt en vil, men det gir ingen forrang til G-ds Rike, siden den veien er åpen KUN for de som har blitt ny i Jesus Kristus.
http://www.britam.org/TribesCover.html [10]
Dagens jøder er khazarer
http://www.riksavisen.no/?p=10050 [11]
Referanser
Arthur Koestler [12]
The Thirteenth Tribe (1976) [13]
F.W.C Neser
The Ten Lost Tribes of Israel (1965) [14]
Jack Mohr
The Lost Tribes of Israel (1994) [15]
Kristen Dossland
Norronafolket (1949) [16]
GlobalWatch
10 Lost Tribes Of Israel (2012) [17]
J.H. Allen
Judah's Sceptre and Joseph's Birthright (1902) [18]
William Carr
Satan-Prince of This World
(Luciferian_conspiracy_exposed) (1959)
Israels ti stammer er oss europeere
http://evangeliekirken-arendal.no/israels_10_stammer_er_oss_europeere_del_1/ [1]
http://evangeliekirken-arendal.no/israels_10_stammer_del_2/ [19]
http://evangeliekirken-arendal.no/israels_10_stammer_del_3/ [20]
http://evangeliekirken-arendal.no/israels_10_stammer_del_4/ [21]
http://evangeliekirken-arendal.no/israels_10_stammer_del_5/ [22]
Kun tre -3- land igjen uten en Rothschild sentralbank

Facebook Comments