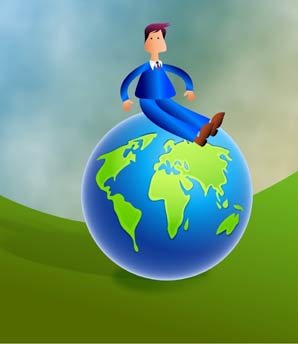 Vi har oversatt deler av en glimrende artikkel av Joseph Aaron, fra Jewish World Review. Joseph Aaron er Redaktør av «The Chicago Jewish News».
Publisert 10. Oktober, 2007 / 28 Tishrei 5768
«Feel the power«, By Joseph Aaron
I artikkelen nedenfor sier J. Aaron som følger:
«Jeg kan ikke hjelpe for det.
Disse type saker gir meg en stor fornøyelse. Og sterke frysninger.
Det er ikke ofte at du finner hele tilstanden til det Jødiske livet idag oppsummert på et sted. Så når du gjør det, er det verdt å legge merke til det og lære fra det.
Stedet jeg snakker om er oktober nummeret [2007] av magasinet Vanity Fair. Vanity Fair er et av de mest fascinerende magasiner som finnes, hvor hver utgave inneholder en forbløffende utvalgt samling av artikler, fra det veldig seriøse til det komplett overfladiske.
Mens oktober utgaven inneholder historier som «How $9 billion in cash vanished in Iraq;» «Inside Bush's bunker;» «How the Media Gored Al Gore in 2000;» og flere, forsiden viser Nicole Kidman som har på seg en seiler hatt og åpner sitt skjørt for å avsløre sine nautiske smykker og sin brystholder.
Vanity Fair er ikke minst flink til å ta pulsen på hvor samfunnet er og går. Vanity Fair er definitivt ikke en Jødisk publikasjon.
Og likevel, i denne ene utgave, forteller det mer om den Jødiske verden som den er idag enn noe foredrag eller bok eller klasserom gjør dem etter.
Det gjør det på to måter.
Den første av sin årlige liste [Vanity Fair] av hva som blir kalt Det Nye Etablissementet, de 100 mest mektige, mest innflytelsesrike menneskene i det Amerikanske samfunn. Hva som er absolutt forbløffende, overveldende med listen er hvor mange Jøder som er på den. Jøder utgjør 2,5 % av den amerikanske befolkning, så det skulle være 2 eller 3 Jøder på listen. Gjett igjen. Listen av Vanity Fair's top 100 innkluderer, gjør deg klar, 51, ja 51 Jøder. Minimum.
Jeg sier 51 fordi det er hvor mange jeg er helt sikker på er jødiske. Der kan være andre på listen som er Jødiske men som jeg ikke vet om er Jødiske og hvilken navn åpenbart ikke er Jødiske.
Men, la oss si at jeg fikk med meg alle. Med det menes at mer enn halvparten av navnene på listen over de 100 personene som er mest vitale for dette samfunn er Jøder. Og dette er en liste som innkluderer Apple's Steve Jobs og Oprah og Bill Clinton og Warren Buffett, for å nevne noen av de få som ikke er jøder på listen.
Forteller deg mye om hvilken innflytelse Jøder har i dette land, om hvilket fantastisk folk jøder er.
Det er noe vi aldri skal ta for gitt, noe vi alltid skal bli overasket over, og føle oss veldig veldig bra over.
Istedenfor, er den Jødiske virkelighet så mye om krangling og engstelse.
Når vil vi lære å kjempe kamper som betyr noe. Når vil vi lære at ikke absolutt alt trenger å være om å gjøre å lage en stor forretning av. Ikke alt vi ikke liker er en trussel, sant å si er noen av de tingene vi ikke liker blir konfliktstoff fordi vi lager en stor sak utav det.
Vi er mektige, meget mektige. Vi spiller en hovedrolle, en sentral rolle i livet til dette landet. Og likevel opptrer vi alltid som redde lille mus på grensen til utryddelse.
Og hvis du tror at hvordan vi er ikke har konsekvenser, vennligst se på noe annet i dette nummer av Vanity Fair, noe som forteller oss mye om Jødiske livet idag.
Der er en artikkel i et magasin som kalles «Talk of the Town.» Det forteller en historie om den intense rivalisering mellom to av de mektigste menn på Wall Street, Henry Kravis og Stephen Schwarzman.
Begge, som du har gjettet, er Jøder. Begge er helt på toppen av den private investeringsvirksomhet i verden, som er hvor den finansielle action er i disse dager. Begge kontrollerer titalls milliarder av dollar i verdier.
Det første som slår meg om historien er hvilken idioter begge er, hver av dem prøver å overgå den andre, ødelegge den andre, sette ut den andre. For ikke å nevne på hvilken avskyelig måte som hver av dem behandler sine ansatte. Hver av dem oppfører seg på måter som ikke er i henhold til den Jødiske lære og verdier.
Det er trist, men det er ikke hva som slo meg. Hva som slo meg er hvor mye disse to gjør, hvor mye de gir, til alle former for gode formål og veldedighet som bibliotek og sykehus og universiteter og så videre, alle nevnt ved navn i artikkelen. Du kan lese og se hvor mye energi hver av dem legger i veldedighet, hvor mye penger hver enkelt av dem donerer til gode formål. Gjør dette, er åpenbart, for den sosiale status og heder det gir.
Hva som også er klart er at det ser ikke ut til at noen av dem er innvolvert i eller gir til Jødiske formål, ihvertfall ikke i noen stor grad.
Det også forteller deg en hel del om Jødisk virkelighet idag.
For de er ikke alene. Fakta er at, som meningsmåling etter meningsmåling har vist, de fleste rike Jøder i dette landet gir ikke til Jødiske formål. Ihvertfall ikke de titalls millioner av dollar dei så villig gir til et universitet eller museum.
Spørsmålet er hvorfor dei føler så liten troskap til sitt eget samfunn, deres eget folk, hvorfor de så mye ser andre steder å hengi sine ressurser og energi.
Jeg tror det fordi vi har laget Jødedommen til slik en utrivelig plass.
Jødedommen har så mange mektige folk blant oss, som Vanity Fair's 100 liste viser oss. Vi er en slik stor del av dette samfunn, har slik innflytelse på dette samfunn og likevel er vi alltid ulykkelige, føler oss alltid som offer, krangler alltid om dette og hint. Det er alltid et annet Holocaust rundt hjørnet, der er alltid en neste Hitler på scenen, Israel er alltid beseiret, vi er alltid bekymret, alltid redde, alltid sikker på at enden er nær.
Vel, hvem i helvete ønsker å delta i den lille gruppe?
Fordi vi dermed spiller alle goder som kommer vår vei, alt for mange av oss enkelt og greitt velger å gå sin egen veg, å bli involvert i ting som ikke involverer skyld og nevrotisme.
Mer en halvparten av de på listen til Vanity Fair 100 er Jøder. Og likevel føler vi oss ikke mektige, sant å si, i det hele tatt gjør listens eksistens oss mer nervøs enn vi var før. Istedenfor å være fornøyd og være stolte, bekymrer vi oss for at det ikke er bra å være så synlig, at det er uheldig at hedningene ser hvor mye innflytelse vi har. Og så tar vi en mulighet for glede, og gjør den til en sorg.
Er det noe å undres over da at om vi alltid konkluderer med at et Jødisk liv, på tross av alle bevis på det motsatte, er et fryktelig og trist liv, og at de som har det, ikke vil ha noe som helst å gjøre med det?»
Så langt Joseph Aaron. Bemerk at stor bokstav i «Jøder» og «Jødisk» er satt av Joseph Aaron selv og ikke av oversetter.
Rothchild / Rockefellerne eier Israel. De kjøpte den første jord i Palestina, som senere skulle utvikle seg til den Israelske stat, etter påtrykk med terror og drap mot Britene for å gi dem det (Irgun v/Begin mot David Hotellet blant annet).
Ledet til Balfour erklæringen i 1917.
Rothchild / Rockefellerne eier det meste som er å eie i verden, mest innen bank, finans og olje/energi.
51 % utgjør et simpelt flertall, og de kan således under demokratiske virkemidler i de aller fleste tilfeller få det som de vil, i tillegg til at mange av hedningene med makt og penger innen politikk og næringsliv støtter dem, slik at flertallet nok utgjør nærmere 98 %.
Under en diskusjon mellom Israels Statsminister Ariel Sharon og Utenriksminister Shimon Peres, Peres sa at Israels politikk med fortsatt vold kunne «vende amerikanerne mot oss«.
Til dette repliserte Sharon:
«Hver gang vi gjør noe, forteller du meg at Amerikanerne vil gjøre det og det. Jeg skal fortelle deg noe i klartekst: Ikke bekymre deg om Amerikansk press ovenfor Israel;
Vi, det jødiske folk, kontrollerer Amerika, og Amerikanerne vet det.»
— Israeli Prime Minister Ariel Sharon. October 3, 2001. (IAP News)
Tjener som rådgivere for konger og presidenter.
Se liste her over noen av folkene i Bush administrasjonen som har dobbelt statsborgerskap; USA/Israel:
http://www.viewzone.com/dualcitizen.html
Kontrollerer verdens finanser.
Vanity Fair artikkelen Joseph Aaron kommenterer er her:
http://www.vanityfair.com/politics/features/2007/10/newestablishment200710
riksavisen.no skulle ønske at disse mektige krefter med mange penger ikke ville være seg selv nok, men kunne ha menneskehetens felles beste for øye, inklusivt palestinere, muslimer og kristne.
PS: Store donasjoner til universiteter, sykehus, museum, presidentkampanjer og lignende, mener Joseph går utover støtte til det Jødiske samfunn, og etterlyser mer støtte fra de jødiske rikfolk til jødiske formål istedenfor. Vi kan ikke se at å støtte gode formål i storsamfunnet, utover det jødiske samfunn, er unyttig for jødenes sak. Slike donasjoner sikrer innflytelse for den jødiske sak, og dermed kan vi ikke si oss enig i at de ikke tjener den jødiske sak.
Mvh. J.Johansen
http://www.riksavisen.no
Artikkelen er publisert under USA's «FREEDOM OF INFORMATION ACT OF 1974»; «for educational purposes».
Josephs hele artikkel på originalspråket her:
Jewish World Review Oct. 10, 2007 / 28 Tishrei 5768
http://www.jewishworldreview.com/joe/aaron101007.php3
«Feel the power», By Joseph Aaron
http://www.JewishWorldReview.com | I just can't help it.
This kind of thing gives me a big thrill. And a big chill.
It's not that often that you find the entire state of Jewish life today encapsulated in one place. So when you do, it's worth taking note of and learning from.
The place of which I speak is the October issue of Vanity Fair magazine. Vanity Fair is one of the most fascinating magazines around, one that every issue features an amazingly eclectic collection of articles, from the very serious to the completely frivolous.
Indeed, while the October issue features such stories as «How $9 billion in cash vanished in Iraq;» «Inside Bush's bunker;» «How the Media Gored Al Gore in 2000;» and more, the cover features Nicole Kidman wearing a sailor cap and opening her shirt to reveal her nautical necklace and her brassiere.
Vanity Fair is nothing if not on the cutting edge of where society is and is going. Vanity Fair is definitely not a Jewish publication.
And yet, in this one issue, it tells us more about the Jewish world as it is today than any lecture or book or class out there.
It does that in two ways.
The first is its annual list of what it calls The New Establishment, the 100 most powerful, most influential people in American society.
What is absolutely amazing, stunning about the list is how many Jews there are on it. Jews make up about 2.5 percent of the U.S. population so there should be two or three Jews on the list.
Guess again, bubeleh.
The list of the Vanity Fair 100 includes, get ready, 51, yes 51 Jews.
Minimum.
I say 51 because that's how many I'm sure are Jewish. There may be others on the list who are Jewish but who I don't know are Jewish and whose names are not obviously Jewish.
But let's say I got them all. That means that more than half the names on the list of the 100 people who are the most vital to this society are Jewish. And this is a list that includes Apple's Steve Jobs and Oprah and Bill Clinton and Warren Buffett, to name a few of the few non-Jews on the list.
That is absolutely nothing short of astounding.
Talk about us being accepted into this society, talk about us having power in this society, talk about anti-Semitism being a thing of the past, talk about Jews no longer needing to be afraid to be visible and influential.
And it doesn't stop there.
The magazine also has a separate list of what it calls The Next Establishment, younger people it believes destined to make the big list some year soon.
Of the 26 names on that list, 15 are Jews. That I'm sure of. 15 of 26. More than half.
And it doesn't stop there.
The magazine also has a separate list of what it calls The Pit-Stop Club, those who have made The New Establishment list in the past but who didn't make it this year but are fairly certain to make a comeback in a future year.
Of the nine names on this list, eight are Jews. Eight out of nine. Don Imus is the only non-Jew on the list.
I mean, it's just unbelievable.
This is a big country with lots and lots of very talented, highly educated, tremendously motivated people. And no one has its finger on the pulse of the people who make this country what it is more than Vanity Fair.
And when it came time to pick the 100 who most move and shake things in America, more than half-more than half-are Jews. And on the list of those who will one day be on that list, more than half-more than half-are Jews. Not to mention that almost 100 percent of those who were on the list and are poised to make a comeback are Jews.
Tells you so much about the place of Jews in this country, about the amazing people Jews are.
That's something we should never take for granted, something we should always be blown away by, feel very, very good about.
Instead, however, the Jewish world is so much about kvetching and worrying.
When will we learn to fight fights that matter. When will we learn not everything needs to be made a big deal of. Not everything we don't like is a threat, indeed some of the things we don't like only become a nuisance because we make a big deal out of it.
We are powerful, very powerful. We play a major, pivotal role in the life of this country. And yet we are always acting like scared little mice on the verge of annihilation.
And if you think how we are doesn't have consequences, please look at something else in this Vanity Fair issue, something that also tells us much about Jewish life today.
There is an article in the magazine called «Talk of the Town.» It tells the story of the intense rivalry between two of the most powerful men on Wall Street, Henry Kravis and Stephen Schwarzman.
Both, as you may have guessed, are Jews. Both are at the very top of the private equity world, which is where the financial action is these days. Both control tens of billions of dollars worth of assets.
The first thing that struck me about the story is what jerks both are, each trying to top the other, destroy the other, outdo the other. Not to mention the abominable way that each treats their employees. Each acts in ways that are not very much in keeping with the teachings and values of Judaism.
That's sad, but that's not what got to me. What got to me is how much these two do, how much these two give, to all kinds of good causes-libraries and museums and hospitals and universities and on and on, all mentioned by name in the article. You read and see how much energy each puts into his charitable work, how much money each donates to charitable causes. Doing so, it is very clear, for the social status and clout it brings.
What is also clear is that it seems neither is involved in or gives to Jewish causes, at least not in any significant way.
That too tells you a lot about Jewish life today.
For they are not alone. The fact is that, as survey after survey has shown, most very wealthy Jews in this country do not give to Jewish causes. Certainly not the tens of million dollars they so eagerly give to a university or a museum.
The question is why they feel so little allegiance to their own community, their own people, why they so much look elsewhere to devote their resources and their energies.
I think it's because we have made Judaism such an unpleasant place.
Judaism has so many powerful people among us, as the Vanity Fair 100 list shows. We are such a part of this society, have such impact on this society and yet we're always unhappy, always feel victimized, always kvetch about this and that. It's always another Holocaust around the corner, there's always the next Hitler on the scene, Israel is always embattled, we're always worried, always scared, always sure the end is near.
Well, who the hell wants to join that little party?
Because we so squander all the good that has come our way, too many of us are simply opting to go their own way, to be part of things that don't involve guilt and neuroticism.
More than half those on the Vanity Fair 100 are Jews. And yet we don't feel powerful, indeed, the very fact of the list makes us even more nervous than we were before. Instead of being pleased and taking pride, we fret that it's not so good to be so visible, bad that the gentiles see how much influence we have. And so we take even an occasion for joys and make it one for oys.
Is it any wonder then that if we always make out that Jewish life, despite all evidence to the contrary, is a scary and dreary place, that those who have made it, want nothing to do with it?
Every weekday JewishWorldReview.com publishes inspiring articles. Sign up for our daily update. It's free.
Joseph Aaron is Editor of The Chicago Jewish News.
Vanity Fair artikkelen Joseph Aaron kommenterer er her:
http://www.vanityfair.com/politics/features/2007/10/newestablishment200710