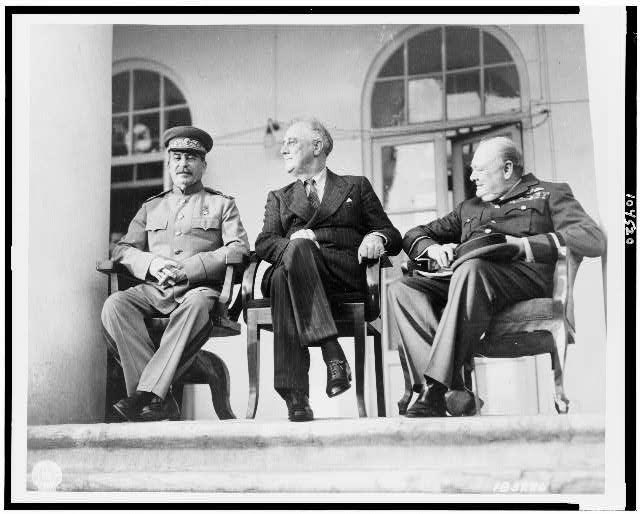 Mistanke om at Haakon Lie og Co. solgte oss til internasjonale kingpins (khazarer og bankiere) i New York og London, er herved bekreftet. Jens Christian Hauge som «Oscar», Mossads mann, ifølge jurist og diplomat Synnøve Fjeldbakk Taftø. Gaustad / CIA samarbeidet om utprøving av teknikker for befolkningskontroll er andre indikasjoner. Bekreftet på CIA / OSS' lønningsliste.
Hvorfor ble Gerhardsen frigitt tysk konsentrasjonsleir, og tillatt å holde valgtaler på Grini, før krigens slutt? Fordi samme krefter stod bak naziene, som de stod bak bolsjevikene, som de stod bak «seierherrene» i Norge etter andre verdenskrig. Hele krigens agenda var å samle nasjonene «under sine vinger». I den forbindelse måtte det tyske kulturrike «fullstendig tilintetgjøres».
http://www.wintersonnenwende.com/scriptorium/english/archives/articles/jdecwar.html
At khazarene erklærte Tyskland krig den 24. mars, 1933 i Daily Express, var som myggen som erklærer elefanten krig. Det måtte sterkere lut til, USA og Storbritania måtte for enhver pris dras med i krigen, via sine korrupte ledere; derav massedrapene over hele Tyskland, og spesielt skal vi minnes Dresden, nærmest etter at 'de allierte' hadde vunnet krigen.
Husk at hvor andre bruker ordet jøder, så mener de khazarer; bankiere og finansfolk i London City og på Wall Street, jfr. Joh. Åp. 2.9: "De som kaller seg jøder, men som ikke er det, men er Satans Synagoge". Jøder er som kristne; forført, hjernevasket og forvirret. Vet ikke inn eller ut p.g.a. spindoktorers tåkelegging.
«You must understand that this war is not against Hitler or National Socialism,» Churchill is quoted as saying, «but against the strength of the German people, which is to be smashed once and for all, regardless whether it is in the hands of Hitler or a Jesuit priest.» (Emrys Hughes, Winston Churchill, His Career in War and Peace p. 145)
http://www.henrymakow.com/001071.html
John Nikolai Omark «Krigen Til Havs»:
(s. 239 o.f.) «På spørsmål om hvor pengene kom fra, forklarte Lie til politiet at Sjømannsforbundets avdeling i New York etter krigen forvaltet 35 000 dollar for Arbeiderpartiet, det skulle ha vært donasjoner til partiet fra tre jødiske fagforeninger i USA.»

«Ifølge Lie selv i boken «Krigstid 1940-1945 (Tiden, 1982), ble det samlet inn penger i USA mot slutten av krigen til det som fikk navnet Amerikansk Arbeiderhjelp og som ble overført til Norge via Stockholm, og denne innsamlingen var det Lie selv som sto for. Videre fikk Lie «ordre» fra London om å plassere en bestilling på «.. trykkeriutstyr: presse, settemaskiner og matriser» som skulle leveres etter krigen. Denne bestillingen krevde en «down payment» (delbetaling i forskudd) på 100 000 dollar. Penger fantes ikke, og, skriver Lie:»

«… igjen gikk veien til jødiske arbeiderorganisasjoner. Utstyret ble kjøpt og betalt.»

«Ja, sannelig hadde Arbeiderpartiet mye å takke jødiske organisasjoner for. Men hvordan et slikt nært forhold til jødiske organisasjoner var blitt etablert, skriver Lie ingenting om. Under alle omstendigheter sitter man igjen med en følelse av at det er noe med Lies forklaring til politiet som ikke stemmer. …. Det er all grunn til å anta at det var avlyttingsutstyr til POT Lie hadde med hjem fra USA, …».

«Haakon Lie kom over til London via Sverige, og han var i USA i to omganger, første gang fra april 1942 til desember 1943, for det meste opptatt med opplysningsarbeid og foredragsturneer. Det andre oppholdet varte fra april 1944 og krigen ut. Lie oppholdt seg da (med diplomatpass) ved den norske delegasjonen i Washington som arbeiderattaché for partiet i forbindelse med den omfattende virksomheten som foregikk i den vestlige arbeiderbevegelsen mot slutten av krigen. Men, skriver Lie videre, delegasjonen satte som betingelse at LO betalte utgiftene. Skal man tolke Lie bokstavelig, ble altså alle disse utgiftene betalt av Sjømannsforbundet.»

«I Washington fikk Lie også den første kontakten med amerikansk etterretning, og han skriver i den forbindelse at

«Vår gode venn Bjarne Braatøy flyttet over fra Office of War Information til Office of Strategic Services (OSS. F.a.), forløperen til dagens CIA, den amerikanske etterretningstjenesten. Så også der ble dørene åpnet. Med status som labour attaché ble dørtersklene lavere i de amerikanske regjeringskontorene.» (Braatøy var norsk-amerikaner og arbeidet i den amerikanske etterretningstjenesten under krigen) »

«Den senere CIA-sjefen (under Nixon/Ford), William Colby, tjenestegjorde i OSS under Lies andre opphold i USA, og Lie kan ha blitt kjent med Colby i denne tiden. En kilde som kjente godt til Lies virksomhet i Washington under krigen, skriver at Lies amerikanske kone, Minnie, var en bekjent av Colby, og at Lie traff henne gjennom Colby. Minnie må ha levd absolutt anonymt og avstengt fra offentligheten den tiden hun bodde i Norge. Ikke en eneste plass er hun nevnt, annet enn i Stein Bjørlos artikkel i Arbeidshistorie 2005, hvor det heter at hun var Lies andre kone og at han fikk en datter med henne. Lie selv, som beretter detaljert om det meste han opplevde under sine to og et halvt år i USA under krigen, har ikke et eneste ord å si om Minnie.»

(s. 245) «Det er grunn til å spørre om Einar Gerhardsen kunne stille seg likegyldig overfor all denne grunnløse personforfølgelse. Statsministeren var neppe klar over at han var med på å skape et monster da han slapp POT løs på befolkningen i januar 1947 – som fratok ærlige og redelige sjøfolk som hadde kjempet i seks år på havet for landets frihet, fundamentale, menneskelige rettigheter.

Motsetningene mellom Gerhardsen og Haakon Lie er vel kjent. Per Øyvind Heradstveit tidfester i boken Einar Gerhardsen og hans menn starten på disse motsetningene til midten av 1950-tallet og angir utenriks- og sikkerhetspolitikk og Lies ensidige USA-vennlige holdning som en hovedårsak til dem. Ingvald Haugen var like ensidig USA-vennlig som Haakon Lie, og dessuten var det Haugen som var tilknyttet POT. Einar Gerhardsen, som for øvrig også hadde sin bror, Rolf, sittende sentralt i POT, og som må ha hatt førstehånds kjennskap til hva som foregikk der, hadde selvsagt også kjennskap til hva Haugen hadde for seg, like godt som han kjente til hva Lie hadde for seg. Det er derfor grunn til å spekulere i om Gerhardsen nå også hadde fått nok av Ingvald Haugen og innså at han var blitt ført på villspor av hans vidløftigheter.»
Did Mr Winston Churchill rely on funds from the Jews?
From David Irving: «Churchill's War», vol. i: «Struggle for Power»:
«Funds had been arranged two days earlier at a private dinner in North London, hosted by the Board of Deputies of British Jews. Its vice-president Sir Robert Waley-Cohen, chairman of British Shell, was a charismatic Zionist extrovert who would become, in the words of his authorised biographer Robert Henriques, the 'veritable dynamic force of Focus,' »
http://www.fpp.co.uk/bookchapters/WSC/Waley_Cohen.html
Oddmund H. Hammerstad sier i boken "Oppgjør med maktspill og overgrep i De hemmelige tjenester":
"Når så sterke krefter og store ressurser settes inn for å hindre at det historiske bilde blir tegnet fullt ut, er det nok dessverre grunn til å anta at det er fordi det er meget alvorlige feilgrep som er begått. Jens Chr. Hauge og Haakon Lie kniper munnen igjen. Den første mer enn den andre. En gang snerret Lie til en journalist: "Nærmer du deg Jens Chr. Hauge med spørsmål om hvilke spesielle kontakter han hadde i USA, vil han be deg å dra til H.!, og det gjør jeg også, dra til H.!" 3)
Haakon Lie skal i samme forbindelse ha uttalt: "Vi hadde en oppgave å løse". Det er nærliggende å spørre: Hvilken oppgave hadde Haakon Lie og hans partifeller påtatt seg å løse? Og hvem var oppdragsgiveren? »
http://www.riksavisen.no/?p=394
Disse ting viser hvor lett politikere korrumperes, og hvem som egentlig stod bak andre verdenskrig, og som eide politikerne som har sittet med makten siden det. Jfr. Gro Harlem Brundtland som en av Haakon Lie's største beundrere. Jens som hennes utvalgte etterfølger, G. Støre som hennes tidligere assistent i mange stillinger. Og slik går no årene under de samme faner; samme makt og innflytelse …. (går i arv).
At Adolf Hitler døde i bunkersen er aldri bevist, like lite som det er bevist at Saddam Hussein er avliden. Disse personene blir brukt av sine «føringsoffiserer» til å gjennomføre agendaen som her:
«You must understand that this war is not against Hitler or National Socialism,» Churchill is quoted as saying, «but against the strength of the German people, which is to be smashed once and for all, regardless whether it is in the hands of Hitler or a Jesuit priest.» (Emrys Hughes, Winston Churchill, His Career in War and Peace p. 145)
http://www.henrymakow.com/001071.html
og deretter lever de sikkert herrens glade dager på skjult sted. Enkelte hevder til og med at Hitler var Rothchilds datters sønn, og opererte som det, for å ødelegge det tyske kulturrike, og legge det under globalistenes og khazarenes kontroll. At hva vi ser idag hvor Hitlers verktøy i stor grad brukes over hele verden i «frie stater» som Norge, USA og Storbritania, viser at Hitler var ikke så fjern fra seierherrene som de vil ha det til. Jfr. Operasjon Paperclip.
Jfr. «Illuminati Bankers Hired Hitler to Start WW2»
http://www.savethemales.ca/001936.html
Neste ut er Irans folk, som er av de gjenværende få stater som står i veien for deres «Verdensherredømme» og «Nye Verdensorden». De setter ofte inn sine egne folk som ledere i disse landene, til å lede folket inn i elendigheten, som Hitler og Stalin, og den endelige dialektiske målsetting.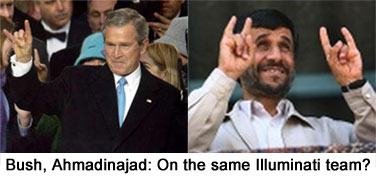 Vi skal ikke se bort fra at Irans president Mahmoud Ahmadinejad også er deres plasserte mann til å lede sitt folk til overgivelse og «extermination» om hans folk ikke kneler for disse krefter. Det er vanligvis slik det gjøres, ved å lage tilsynelatende motsetninger mellom tjenere for de samme «kingpins»; Bush og Ahmadinejad tjener kanskje samme herrer.
http://www.jesus-is-savior.com/False%20Religions/Wicca%20&%20Witchcraft/signs_of_satan.htm
Leo Zagami kalte nylig Ahmaninejad en; «well known Satanist with no real connection to Islam» and the Iraq-Iran-Israel conflict a «foreign intelligence show.» Empowered by the central banking cartel, the Illuminati Order has the resources to infiltrate both sides of every conflict, and steer it according to the New World Order agenda. They call this a «dialectical process.» They were on both sides of both world wars, the Cold War, Korea and Vietnam. Iran's nuclear ambitions are merely a pretext. The real object is to degrade both the US and Iran so citizens will forfeit political, economic and spiritual rights to Illuminati banker «world government.»
http://www.outlawjournalism.com/news/?p=1697
Neste gang den norske regjering legger opp til å lede oss inn i kriger med skjulte agendaer, så slipper de å belemres med den tunge gullkisten fra Norges Bank idet de flykter hals over hode til sitt trygge eksil. Gullet er solgt, og oljeformuen vår er trygt plassert i London og utlandet allerede, slik at alt er lagt til rette for at det er nok for dem å ha sjekkheftet på baklommen. Vi blir som alltid overlatt til oss selv, for å føre deres krig, mens de koser seg med champagne og snitter på fine hoteller i London eller et annet sted.
Bush Sr./Jr's., Blair's, Brown's, etc. «Nye Verdensorden» («The New World Order»):

Ikke bare Iranske presidenten som har forandret navn, for syns skyld:
Hitler was the illegitimate son of Baron Rothschild. SCHICKELGRUBER BECOMES HIEDLER BECOMES HITLER.
Her er noen flere navne endringer:
The House of Bauer (Saxe-Coburg-Gotha changed its name to the House of Windsor ) at the start of WW1
The Duke of Edinburgh (Lord Mountbatten) forandret sitt navn fra Battenburg.
Gorbachov forandret sittt navn fra Orbach-Korbach
Stalin forandret sitt navn fra Iosiph David Vissarionovich Djugashvili-Kochba
Bush familien forandret sitt navn fra Bosch
Hitler hette Hiedler fra SCHICKELGRUBER med forbindelse til Rothschild
J.P. Morgan forandret sitt navn fra Morgantaler
Rockefeller forandret sitt navn fra Rogdenfelder
Hillary Rotham Clinton forandret sittt navn fra Rodenhurst
John Kerry's far forandret sitt navn fra Fritz Kohn
Rothschild forandret sitt navn fra Bauer
Mark Rich who was pardonned by Clinton forandret sitt navn fra Reich
Christian Rakovsky forandret sitt navn fra Chaim Rakover
Clinton forandret sitt navn fra Winthrop Rockefeller Jr
Lenin's navn var forandret fra Moishe Blank
Nicolas Sarkozy(His Greek-born grandfather, Benico Mallah (former Aaron Mallah), was a physician from Thessaloniki. Benico, who left for France to become a doctor, was the son of Mordechai Mallah, one of the eight sons of Aaron Mallah, founder of the Rabbinical School of Thessaloniki.[7])
http://en.wikipedia.org/wiki/Nicolas_Sarkozy
Perry forandret sitt navn fra Pereira-Perez
Sarah Palin; it seems that Governor Sarah Palin is technically a Jew. Yes, according to those who have written on the subject, not only was her mother, Sally Sheigam, Jewish (making her Jewish by Jewish law), her father also had a Jewish mother.
http://www.jdl.org/geeklog/article.php?story=20081010084609205
Angela Merkel forandret sitt navn fra ………
Madeleine Albright forandret sitt navn fra ……
Gordon Brown's forfedre forandret sitt navn fra ……… (far; John Ebenezer Brown)
http://en.wikipedia.org/wiki/Gordon_Brown
The word «Ebenezer» comes from Hebrew and is actually two words pronounced together: Even Haazer. It is usually transliterated as a proper name by dropping the definite article (Ha) from the Hebrew word for «place» (Ezer) and putting it together with the Hebrew word for «stone» (Even) to create: «Ebenezer.» The etymological roots of the word, thus defined, should demonstrate that an «Ebenezer» is, literally, a «Stone of Help.»
http://en.wikipedia.org/wiki/Ebenezer_Scrooge
Every ever operating national communist party in the world has been lead by Zionists, from 1900 to the 60's. Leon Trotsky (Lev Bornstein, Zinoview (Hirsch Apfelbaum), Kamreov (Rosenfeld). Outside of Russia Aptecker, Goldman, Kuhn, Luxenbourg. Of the quasi cabinet of the USSR 1917 all 24 were Zionists, all had changed their names. The Soviet Central Committee in 1935 consisted of 56 Zionists and three Christians married to Zionists every one of them had changed their names to hide their Jewish ancestry.
'The Dark Secret Of Jewish Power Is Out', By Israel Shamir
http://www.rense.com/general35/poawer.htm
Ønsker du å ta en DNA test ? Du får en her:
http://www.igenea.com/index.php
Facebook Comments