Forfatteren av boken «The Jewish Revolutionary Spirit and Its Impact on World History» er katolikk, og gir et fantastisk historisk perspektiv på forholdet mellom jøder og kristne gjennom de siste 2000 år.
"The Jewish Revolutionary Spirit av E. Michael Jones er en monumental bok som belyser to tusen år med et vanskelige forhold mellom Kristne og Jøder, og tar for seg å vise forbindelsene med den Jødiske strategi som permanent revolusjonær med et permanent jødiske opprør mot Kristus (=Logos). Denne boken kommer i rett tid for å gjenopprette den tapte balanse mellom Jødiske og Kristne tendenser i den Vestlige psyke.»
Den israelske dissident Israel Shamir, forfatter av 'Flowers of Galilee' og 'Cabbala of Power'.
Den kanadiske jøde Henry Makow utfyller boken og sier:
«E. Michael Jones har skrevet en 1200-siders bok «The Jewish Revolutionary Spirit and Its Impact on World History» som dokumenterer den nedbrytende rolle spilt av den organiserte Jødedom gjennom historien.»
http://www.rense.com/general82/revo.htm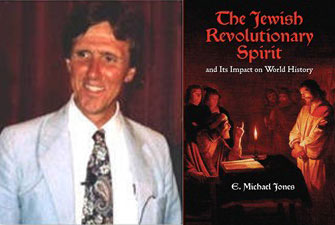 Det eneste andre kristne som ikke tilhører den katolske kirke kan være observant på er at for forfatteren er det den Katolske Kirke som er «Det Nye Israel», som i den nye pakten er Guds Utvalgte. For protestantismen er det mer hver enkelt individ som lever etter det kristne evangelium i Det Nye Testamente (den nye pakten) som i sum er Kirken og dermed «Det Nye Israel».
Bortsett fra denne lille forskjell i synet på frelsen, om den går direkte mellom Gud og mennesker, heller enn via Kirken, så bøyer jeg meg i støvet for slik en grundig studie, og en slik fantastisk bok. Dette er religiøs verdenshistorie som den er, og ikke slik den gjerne vil fremstilles som av «the powers to be», og som vi er indoktrinert med fra siste verdenskrig og til d.d.
Boken kan bestilles hos http://www.culturewars.com
eller hos Amazon
J.Johansen
Facebook Comments