«The Great Work – The Luciferian Agenda – will come to pass. As a matter of fact, it already has. What is manifesting now in this plane of low, slow vibration, was created long ago. The ignorant masses will stand by and receive their new (old) god in a state of rapt adulation – prostrate at an iPhone. The Hour is come, the Rough Beast has, indeed, Slouched, and its Birth is nigh.»
We are Witnessing Overthrow of God
https://www.henrymakow.com/2017/12/overthrow-of-god.html
I was writing about the thousands of Jews becoming filled by the Spirit of Jesus Christ today, and presented a collection, in Israel and around the world who have their hearts circumsised. Whenever the quest for Truth and Righteousness, there is the seed of Abraham and Jesus Christ lives in that bodily temple (1 Corinthians 3:16).
Jews are Saved and Chosen in thousands
http://www.riksavisen.no/joder-blir-frelst-og-utvalgt-i-tusentals/
The sins of feminism is piling up in Heaven.
Abortions.
Fatherless children. Spiritual lost. No connection to their source. A full generation psychological damaged.
Paradise lost. Rigtheousness dead.
etc.
Henry Makow; A Jew I would be proud to call a friend
A merciless quest for Truth. It goes back many years, until the beginning of the internet age, Henry was one of my «accomplices» in another matter. The Norwegian Mens Movement and SaveThe Males.com who was Henry's project; I gave up the project. There was nothing to save in Norway. No one had the courage to support me and the activity, why should I try to save them when noone didn't want to be saved, a feminized shadow of the men they could be, cowards, feminized misfosters, feminism, a Luciferian seduction and Jezebel spirit, creates homosexuality.
The New (luciferian) World Order of the Serpent seed.
«What is relevant here, is the method Lucifer has employed in his ceaseless quest to spite The Creator.

To get to God, he intends to destroy man. To get to man, he approached woman. That irrational, rationalizing creature obeyed the serpent in an attempt to gain wisdom, which is something of which she is incapable, because it is against her nature. She «sinned» in that she acted according to Lucifer's direction, instead of the man's, who is her path to God.» – Paul Fields
Man then «sinned» by following the woman, instead of leading her. He acted according to the woman's direction, instead of his Father's.
«As for my people [Israel], children are their oppressors, and women rule over them. O my people, they which lead thee cause thee to err, and destroy the way of thy paths.» – Isaiah 3:12
The Matrix
The Matrix is like a mental box we're all herded into. The Jewish Question, seem to me the 'Babylonian Jews' is the 'troll' that is guarding the entrance to the 'Holy Land', scare people away from entering and from percieving the World and creation different than the Babylonian Jewish scam, luciferian New Babylon re-created of the whole World, with it's spiritual center in Jerusalem and in the Vatican of Rome.
As soon as people see that the Babylonian Jews are not what they claim they are, by Zionism exposed, we're on the Way (Acts 9:2, Acts 24:14) to break free from the Matrix, the mental prison they keep the populations of the World in by intimidation and threat of violence (terror, and ultimately the Samson Option).
Chris Rea – The road to Hell

«And the perverted fear of violence chokes the smile on every face»
Fear is Satans tool, not Gods (1 John 4:18).
A person must come to the side of Jesus Christ and be like; «To Hell with them, they are not to define my life» (satanic liars).
«To be able to comprehend the truth, a man has to confront himself. All the world (tout le monde – «everyone») is physically, mentally and spiritually dis-eased simply because it is an aggregate comprised of sick, degenerate men who refuse to take responsibility for their own health, in all its facets. But the rampant disease is not without an identifiable origin. I began to read the old books. This, in turn, made me realize how much man has lost. It also made me realize how much I, as a man, never had.» – Paul Fields
We come out of the Matrix, the mental box the Babylonian Jews keep the gentiles in prison, the most fantastic landscapes and possibilities how the World really can be like, is what is actually Zion, the New Jerusalem, the spiritual one, so far from the Jewish perception as Aarons that this physical reality that is physical Jerusalem, is the only Zion there is, is actually and in reality the difference between them as Heaven, to Hell. Keep your scam Zion, I stick with the real one.
In the fake Zion, the physical Jerusalem, a not to far future, fire will engulf them, and is to be no more, what will the Zionists believe in then? There is no way God can let unrighteousness and lies win, it must go. 70 years is normally enough, in Biblcal prophecy, to reap the consequences of their transgressions.
What a Wonderful World, «I see shades of blue, wild roses too«, while in their perception this is how the World ought to looks like, for moneymaking: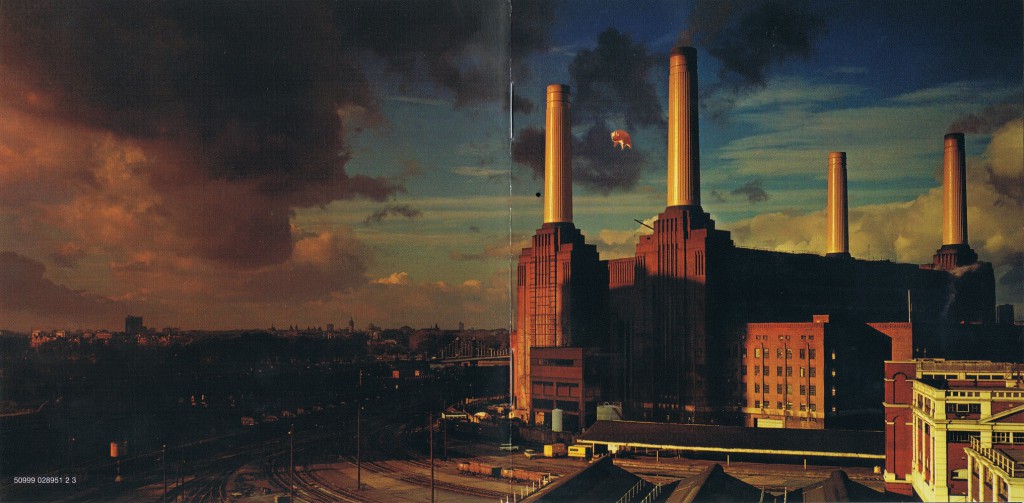 (Photo Pink Floyd; Animals album cover)
At that moment the 'trolls' at the gate, the guardians of the entrance to the (mental) Holy Land, must give way, get out of the Way (Acts 9:2
, Acts 24:14
) , because Jesus Christ as prophesised throughout the Old Testament came to set His people free from the bondage and slavery to this evil Babylonian creatures of Egypt & Sodom.
3 He is despised and rejected of men; a man of sorrows, and acquainted with grief: and we hid as it were our faces from him; he was despised, and we esteemed him not.

4 Surely he hath borne our griefs, and carried our sorrows: yet we did esteem him stricken, smitten of God, and afflicted.

5 But he was wounded for our transgressions, he was bruised for our iniquities: the chastisement of our peace was upon him; and with his stripes we are healed.» – Isaiah 53:3-5
This is the Babylonian slavery we need to get free of, a mental prison. At that moment new landscape opens up for their view, a landscape of beauty, righteousness and peace filled with morals, Christian values, Truth and Righteousness as of Abraham seeds and heritage will be abound.
Bill says:
«Until the Jews renounce the [Babylonian] Talmud and their blasphemy against Christ Jesus, I for one have no sympathy for them. When they return to the Old Testament and read the true prophets and all the prophecies concerning Jesus Christ then I will consider they have some sense of reason.

However, the Talmud is for the criminally insane and unreasoning people and that is just a start. Jesus pinned the tail on the donkey with his words about them, may God have mercy on them when this last gasp is finished and judgment is set. They can scream all they want but the Talmud is for madmen, so appropriate and Zionist Christians are just as mad.»
Two Jews – Doug Batchelor & Steve Wohlberg – boldly tackle one of the most controversial issues in Bible prophesies.
Spiritual Israel
https://www.amazingfacts.org/media-library/book/e/49/t/spiritual-israel
The end times book of the Bible; «Get out of Her, my people» (Revelation 18:4).
Get out of the Matrix. You can not do it yourself. Invite the Messiah, to take care of it NOW!
The Lion of Judah awakens
20-25+ years ago in the start of my writing 'career' I said things will get worse until the Jews of Judah see the Light (not the freemasonic scam Lucifer). Than all Hell will break loose, for the Satanists. Such beautiful souls/people will start blossom, bear fruits. It have started:
Two Israeli Jews explain the gospel in Jerusalem like you've never heard before!!!

Jewish Man Converts to Christianity

Testimony of an Israeli Jewish born again believer from Tel Aviv – Christian church in Tel Aviv

Growing up Jewish, evil demonic forces took over me, but Jesus miraculously healed me!

This Iranian Jew begged Jesus to heal his son. «I can't keep quiet anymore.»

Traumatised Jewish IDF soldier finds cure in Yeshua (Jesus)

WOW! A Jewish lawyer and a leader in her synagogue who turned to Jesus in a supernatural way!

Orthodox Jewish Girl Found the Messiah…Powerful-Best Testimony

The deeper I dove into Orthodox Judaism, the more I realized Yeshua is our Messiah!

WOW! This Jewish man turns to Jesus and explains why in a way you never heard before!

Marty Goetz: «JESUS isn't some dead guy on a cross! He's my MESSIAH!»

WOW! This Jewish professor saw Jesus in a vision yet decided to run away. Until…

More at: www.imetmessiah.com
Testimonies of Jews Who Found Jesus the Messiah

Mer på: www.oneforisrael.org
This is our Brothers and Sisters, in Jesus Christ. Of ONE Spirit, and that spirit is NOT the Luciferian scam.
El Shaddai, by Amy Grant
Facebook Comments