Jødene skaper krise for å kjøpe opp billig. Gammel modell, funker alltid. Der er ingen annen grunn til 'krisen' enn at den er vedtatt i styrerommene. Norge kan opprettholde aktiviteten uten problemer, selv om oljeprisen er lav. Vi kunne røykt dem ut, om der var vilje og våre ledere ikke tjente jødedommens sak (Bilderberg-nettverket, CofFR, Trilaterale Commmission).
Bibelen benevner ISRAEL som 'eiendomsfolket'. «Men dere har Herren tatt og ført ut av smelteovnen, ut av Egypt, for at dere skal være hans eiendomsfolk, slik dere er i dag.» – 5 Mosebok 4:20, Esaias 43:4, HVIS de holder sin del av Pakten (5 Mosebok 4:13-14). Problemet her er at dagens jøder er 90 % Edomitter etter Esau (han som Gud hater, Romans 9:13, Malachi 1:3) og Khazarer, askeNazier (konvertitter til jødedommen), og ikke av hverken Israel (de ti tapte stammer) eller Judah stammen, og ei heller holder de Pakten. Deres talmudiske (Babylonsk mysteriereligion) profeter har sagt at når deres Maschiach (anti-Krist tidsånden) kommer, skal jødene ha all eiendom i verden på sine hender, og alle skal være deres leilendinger.
«Etter dette gikk Jesus omkring i Galilea. For han ville ikke gå omkring i Judea, fordi jødene sto ham etter livet«. – John 7:1
Krigen mot Kristus sluttet aldri. De må drepe selveste Kristus-ånden utav enhver nasjon for å bli fornøyd. Når grunderånd og arbeidsplasser for lokalmiljøer må gi tapt for materialismen og grådigheten etter profitten, som av de etter Kain som drap sin bror Abel og derfor ble lovt at det aldri skulle gro noe grøde på deres vei (Genesis 4:12), utstøtt av familien og måtte leve som sjelløse (Philo) parasitter på andre. Når overskuddene aldri blir store nok.
("justice, justice shall you pursue"; Deuteronomy 16:20)
Riksavisen har tidligere meldt at jødene har erklært krig mot Norge.
Mars 2011; Norske jøder «trenger hjelp utenfra» på grunn av all 'anti-semittismen' i Norge, sier Harvardprofessor i juss, Alan Dershowitz, «When it comes to its record on Israel and the Jews, Norway is the worst country in the world, he said. It is "on the wrong side of history, morality and democratic values»
http://lubavitch.com/news/article/2030677/Professor-Dershowitz-To-Norway-s-Jews-Take-Courage.html
Oppdatering: Sier mannen med påstått deltagelse på Lolita Expressen til jødiske Jeffrey Epstein til forlystelsesstedet Lolita Island, populært kalt Pedophile Island, med mindreårige sexleketøy.
http://www.dailymail.co.uk/news/article-3589628/Report-Bill-Clinton-jumped-aboard-disgraced-sex-offender-Jeffrey-Epstein-s-Lolita-Express-plane-junkets-26-TIMES-just-three-years.html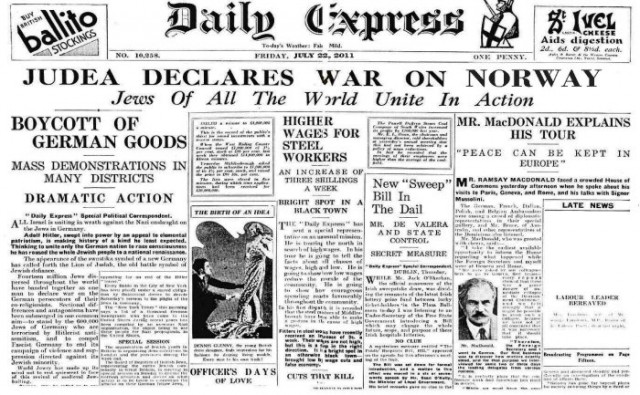 Mossad bak Utøya-terrorismen?
http://www.riksavisen.no/mossad-bak-utoya-terrorismen/
Hjelp får de fra alle steder nå, til multikulturalisme (sivilisasjonsdøderi), økonomisk krig ved å skape 'kriser', og mye annet.
Fagert er landet

Kristian Siem vil restrukturere norsk offshoreskipsbransje
Investor Kristian Siem ønsker å restrukturere den kriserammede norske offshoreskipsbransjen. I samarbeid med hedgefondet Elliott har han opprettet et fond på vel to milliarder kroner.
http://sysla.no/2016/06/01/maritim/kristian-siem-vil-restrukturere-norsk-offshoreskipsbransje_111088/
Vi begynner å se det samme som vederkveget Russland fra 1917, og Tyskland før andre verdenskrig (jøder bak begge krigene mot folkene der). Mainstream media støtter helhjertet jødenes kupp og ran kalt 'konsolidering' og 're-strukturering' selvfølgelig. Den brente jord taktikk. De etterlater seg ødeland (wasteland). De neste skritt for overskuddets tilbedelse er å erstatte de som bygger og arbeider med så lavt betalte som mulig, altså minst mulig deling av overskudd mellom arbeid og kapital. Kapitalen tar størstedelen av overskuddet.
Siem setter rederiene i spill
http://www.smp.no/meninger/leder/2016/06/02/Siem-setter-rederiene-i-spill-12822947.ece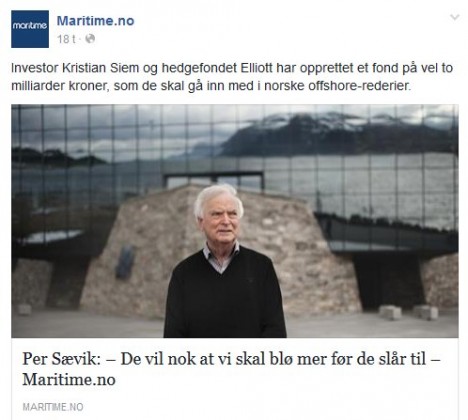 Per Sævik: – De vil nok at vi skal blø mer før de slår til
Investor Kristian Siem og hedgefondet Elliott har opprettet et fond på vel to milliarder kroner, som de skal gå inn med i norske offshore-rederier.
http://maritime.no/nyheter/per-saevik-de-vil-nok-at-vi-skal-blo-mer-for-de-slar-til/
Det er nok nødvendig å blø noe mer, for at de skal få skipene billig nok, samt få andre eksterne kreditorer og långivere til å avskrive gjeld, for 'redningsaksjonen'. Siem er sønn til Kanonbåter til Israel Siem (Sionist) og MILORG mannen Martin Siem.
Paul Singer (businessman)
https://en.wikipedia.org/wiki/Paul_Singer_%28businessman%29
Paul Singer som eier Elliot Management var født i 1944 i New Jersey, og vokste opp i en jødisk familie. Paul Singer startet Elliott Associates i Januar 1977. Elliott er hans mellomnavn.
https://en.wikipedia.org/wiki/Elliott_Management_Corporation
"Det jødiske folket som helhet vil være sin egen Messias. Det vil oppnå verdensherredømme ved oppløsning av andre raser, ved avskaffelse av grenser, utslettelse av monarkiet, og ved etablering av en verdensrepublikk der jødene overalt utøver privilegiet av statsborgerskap. I denne nye verdensorden vil Israels barn supplere alle ledere uten å møte motstand. Regjeringene i de ulike folkeslag som utgjør verdens republikken vil falle uten problemer i hendene på jødene. Det vil da være mulig for de jødiske herskere å avskaffe privat eiendom, og overalt for å gjøre bruk av ressursene til staten. Dermed vil det løftet i Talmud bli oppfylt, som sier at når den messianske tiden er kommet vil jødene ha all eiendom i hele verden i sine hender. « (Baruch Levy, Letter to Karl Marx, La Revue de Paris, p. 54, June 1, 1928)
«The Jewish people as a whole will be its own Messiah. It will attain world dominion by the dissolution of other races, by the abolition of frontiers, the annihilation of monarchy, and by the establishment of a world republic in which the Jews will everywhere exercise the privilege of citizenship. In this new world order the Children of Israel will furnish all the leaders without encountering opposition. The Governments of the different peoples forming the world republic will fall without difficulty into the hands of the Jews. It will then be possible for the Jewish rulers to abolish private property, and everywhere to make use of the resources of the state. Thus will the promise of the Talmud be fulfilled, in which is said that when the Messianic time is come the Jews will have all the property of the whole world in their hands." (Baruch Levy, Letter to Karl Marx, La Revue de Paris, p. 54, June 1, 1928)
Den Jødiske forfatteren Bernard Lazare forteller at Karl Mordechai Marx Levy var faktisk en Talmudist:
"He had that clear Talmudic mind which does not falter at the petty difficulties of fact. He was a Talmudist devoted to sociology and applying his native power of exegesis to the criticism of economic theory. He was inspired by that ancient Hebraic materialism, which, rejecting as too distant and doubtful the hope of an Eden after death, never ceased to dream of Paradise realized on earth. But Marx was not merely a logician, he was also a rebel, an agitator, an acrid controversialist, and he derived his gift for sarcasm and invective, as Heine did, from his Jewish ancestry." (Lazare, Bernard. "Antisemitism, Its History and Causes", p. 129)

In its article on "Messianic Movements", the Encyclopaedia Judaica writes: "In his letters to Leopold Zunz referred many times to the European revolution of 1848 as 'the Messiah.' Even many Jews who left the faith tended to invest secular liberation movements with a messianic glow."
«Han hadde det klart Talmudske sinnet som ikke vaklet på smålige vanskelighetene med faktum. Han var en Talmudist viet til sosiologi og brukte sin opprinnelige kraft eksegese til kritikk av økonomisk teori. Han ble inspirert av den gamle hebraiske materialismen, som forkastet som for fjernt og tvilsomt håp om et Eden etter døden, som aldri sluttet å drømme om Paradiset realisert på jorden. Men Marx var ikke bare en logiker, han var også en opprører, en agitator, en skarp kontroversialist, og han hentet sitt talent for sarkasme og skjellsord, som Heine gjorde, fra sin jødiske herkomst.» (Lazare, Bernard. "Antisemitism, Its History and Causes", p. 129)
I sin artikkel om «messianske bevegelser», skriver Encyclopaedia Judaica: «I sine brev til Leopold Zunz henvist [Marx Levy] mange ganger til den europeiske revolusjonen i 1848 som 'Messias tiden'. Til og med mange jøder som forlot troen tenderte til å gi sekulære frigjøringsbevegelser «en messiansk glød»,
Den tiden hvor de er i sin messias epoke, når jødene har blitt sine egne 'messiaser', er altså når deres sekularisering er fullført som i den franske revolusjonen, deres erkefiende kristendommen og Kristus avskaffet, og de eier eller kontrollerer alt av betydning i verden, eiendom og nasjoner hvor de har installert sine folk som landets ledere; Den Nye Verdensorden.
Judea erklærer Norge krig?
http://www.riksavisen.no/judea-erklaerer-norge-krig/
22/7 – Mossad/CIA/MI6 angriper Norge
http://www.riksavisen.no/227-mossadciami6-angriper-norge/
«Gribbefond» kalles de ifølge Sunnmørsposten, Elliot Management som blant annet har kjøpt argentisk statsgjeld på billigsalg. Skap 'krisen', spis de døde skrottene. «Om ikke rederiene blir med frivillig på en restrukturering varsler Siem at han har et ris bak speilet, og sier fondet kan kjøpe opp obligasjonslån, aksjer og skipsverdier», sier Siem til Sunnmørsposten 2.6.2016.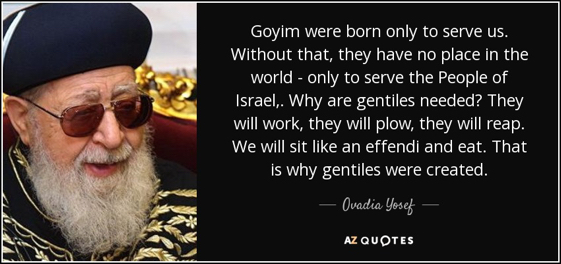 Enten er Kristian Siem jøde selv, eller han deltar i jødenes krig mot Norge. Siem kan jo være av Juda stammen eller av de rette Israel-stammene. Så enten har han gått i ledtog med Satans Synagoge (Rev. 2.9 & 3.9) eller han er en overløper av Israels-folket, til fordel for bedragerne som påstår seg å være av Israel-stammene, etter Abraham > Jacob-Israel. Der blir en pris å betale for bedragerne (Malachi 4:1-5, Deuteronomy 28:15), for å tilrane seg all verdens goder med makt, terror, løgn og bedrag:
«Og jeg vil velsigne dem som velsigner dig (ISRAEL), og den som forbanner dig, vil jeg forbanne; og i dig skal alle jordens slekter velsignes». – 1 Mosebok 12:3
Hvem i alle dager har noensinne jødene velsignet, eller vært lys for nasjonene for? Ser at Paul Singer er 'filantrop' støtter LGBT bevegelsen, det eneste de ser ut til å velsigne er perverse, barbarer og morderpakk. 37 bibelske identitetsmarkører, forteller klart hvem som er det virkelige ISRAEL, etter Jacob-Israel og Isak.
Evidence of real Israel in Bible Prophesy, and end times Holocaust
http://www.riksavisen.no/evidence-of-real-israel-in-bible-prophesy-and-end-times-holocaust/
To artikler om jødefolket
http://www.riksavisen.no/to-artikler-om-joedefolket/
Norrønafolkets identitet
http://www.riksavisen.no/norroenafolkets-identitet/
Det norske folk står ovenfor store utfordringen når mellomklassen er utradert (som det var i USSR og idag i USSA) og alle har blitt proletarer, og det finnes bare to sosiale klasser igjen; Herskerklassen og Slaveklassen.
Random Israelis: Torah Says Gentiles Will Serve Us as 'Willing Slaves'
https://www.youtube.com/watch?v=1UUXzHNxHOo
Real Jews have the faith (and RIGHTEOUSNESS) of Abraham

Relatert lesning
Den Sionist-Sosialistiske Ettpartistaten Norge
http://www.riksavisen.no/den-sosialistiske-ettpartistaten-norge/
Frimureriets Hemmeligheter og Menneskerettigheter fra Kong Salomons tempel
http://www.riksavisen.no/frimureriets-hemmeligheter-og-menneskerettigheter-fra-kong-salomons-tempel/
WARNING: The Jews are heading for a fall
http://www.riksavisen.no/warning-the-jews-are-heading-for-a-fall/
How fake Jews, the Edomites and Khazars, hijacked 'Israel'
http://www.riksavisen.no/how-fake-jews-the-edomites-and-khazars-hijacked-israel/
Gud Signe Vårt Dyre Fedreland – Bodø Domkor

Facebook Comments