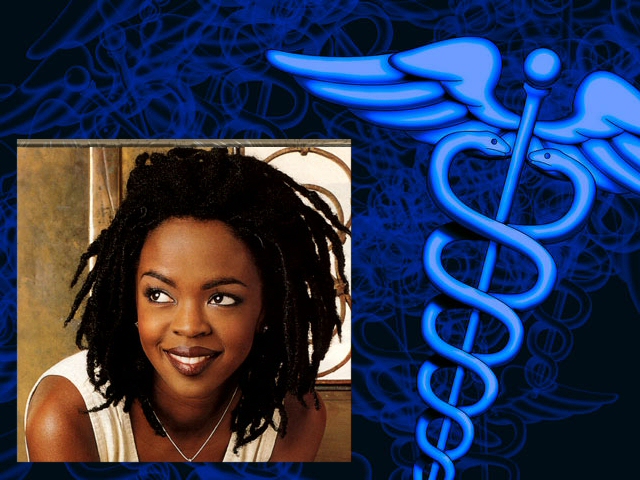 Lauryn Hill har låst opp tankelåsen, og er tilbake for fullt. Hva de har gjort er å ha 'changed the images of man'. Dette vil si å endre de arketyper (bilder) i mennesket som vårt språk er utledet av. Når dette er gjort, har ikke mennesker lenger noe språk, annet enn det språk de er tillært. De har følgelig ikke lenger noen vilje i det hele tatt: Ingen fri vilje, alt er programmert.
En trenger faktisk ikke å se lenger til mer avansert teknologi enn TV apparatet som de fleste har i sin egen stue for å gjøre dette. DET er det viktigste tankekontroll instrument, men det finnes sikkert andre mer avanserte metoder.
Når dette er gjennomført er mennesket ved å tilbe 'Dyret', det animalske i mennesket, de falske bilder som implementeres i mennesket.
Dette program virker som et tankelås. Det blir vanskelig å låse opp tankelåsen. Der er noen illusjoner som må bygges ned, livsløgner som må falle, noen programmerte sannheter som må avprogrammeres, før en kan bli fri fra dette mentale fengsel, dette Matrix, og bli Fri.
Det minner meg forøvrig om en bok fra min ungdom, Bente Muller 'Gjennom Lysmuren' (1986):
'Langt vandret du
for å finne svaret
på din egen gåte.

Langt vandret du
men i ring
i den kosmiske tankelås.

()

"Endelig fant jeg Ordet
som kan lege dine sår
og fri deg fra fangenskapet"

"Dypest smerte led martyren
da han måtte se sitt torturte legeme misbrukt
som gallionsfigur på Tanke-fiendens fane!"

"Når du har avlagt Edens Ed
åpnes Det Nye Jerusalems Porter
i ditt indre landskap.

Da stiger Det Forgjettede Land opp
av ørkenens horisont.
Landet der Lam og Løve
skal gresse
side om side"
()
Dagen gryr
barselnatten blekner
Smertens veer er over
De materielle guders tid
er endt.

Denne gang
fødtes deg en ide';
Den Absolutte Tankes billede

Dette barnet kan aldri henrettes!
Derfor er det udødelig.

Først nå er du moden
for uendelighetens Tanke.

Først nå kan sløret fjernes
fra Skaperkraftens ansikt."
Det var bare en smakebit fra Bente Muller: Gjennom Lysmuren. Et Kosmogram. Så til Lauryn Hills siste åpenbaringer.
I Get Out
— [Singing Chorus]
I get out, I get out of all your boxes
I get out, you can't hold me in these chains
I'll get out
Father free me from this bondage
Knowin' my condition
Is the reason I must change
[Verse 1]
Your stinkin' resolution
Is no type of solution
Preventin' me from freedom
Maintainin' your pollution
I won't support your lie no more
I won't even try no more
If I have to die, oh Lord
That's how I choose to live
I won't be compromised no more
I can't be victimised no more
I just don't sympathize no more
Cause now I understand
You just wanna use me
You say «love» then abuse me
You never thought you'd loose me
But how quickly we forget
That nothin' is for certain
You thought I'd stay here hurtin'
Your guilt trip's just not workin'
Repressin' me to death
Cause now I'm choosin' life, yo
I take the sacrifice, yo
If everything must go, then go
That's how I choose to live
[Pause]
[Singing rest of Verse 1]
That's how I choose to live…
Hehehehe, awhh
No more compromises
I see past your disguises
Blindin' through mind control
Stealin' my eternal soul
Appealin' through material
To keep me as your slave
[Singing Chorus]
But I get out
Oh, I get out of all your boxes
I get out
Oh, you can't hold me in these chains
I'll get out
Oh, I want out of social bondage
Knowin' my condition
Oh, is the reason I must change
[Singing Verse 2]
See, what you see is what you get
Oh, and you ain't seen nothin' yet
Oh, I don't care if you're upset
I could care less if you're upset
See it don't change the truth
And your hurt feeling's no excuse
To keep me in this box
Psychological locks
Repressin' true expression
Cementin' this repression
Promotin' mass deception
So that no one can be healed
I don't respect your system
I won't protect your system
When you talk I don't listen
Oh, let my Father's will be done
[Singing Chorus]
And just get out
Oh, just get out of all these bondage
Just get out
Oh, you can't hold me in chains
Just get out
All these traditions killin' freedom
Knowin' my condition
Is the reason I must change
[Singing Verse 3]
I've just accepted what you said
Keepin' me among the dead
The only way to know
Is to walk then learn and grow
But faith is not your speed
Oh, you've had everyone believed
That you're the sole authority
Just follow the majority
Afraid to face reality
The system is a joke
Oh, you'd be smart to save your soul
Oh, when escape is mind control
You spent your life in sacrifice
To a system for the dead
Oh, are you sure…
Where is the passion in this living
Are you sure it's God you servin'
Obligated to a system
Getting less then you're deserving
Who made up these schools, I say
Who made up these rules, I say
Animal conditioning
Oh, just to keep us as a slave
[Singing Chorus]
Oh, just get out
Of this social purgatory
Just get out
All these traditions are a lie
Just get out
Superstition killing freedom
Knowin' my condition
Is the reason I must die
Just get out
Just get out
Just get out
Let's get out
Let's get out
Knowin' my condition
Is the reason I must die
Just get out
«Oh Jerusalem»
Oh Jerusalem yeah, oh Jerusalem, oh Jerusalem, oh Jerusalem…
Realizing that there's no place else to go
And there's nobody I know who can help me
Text book solutions are so improbable
Cause everybody else is just as empty
Naked as the day that I was born, I tried to hide
…behind education and philosophy
Hopeless explanation to describe a situation
I can't see because the world's on top of me
Oh wretched man that I am, who will deliver me
From the body of this death
Freeing me from dust, and the superficial trust
Of an enemy that seeks to take my breath
Failing to connect, cause I'm morally defect
By reason of the God inside my head
Causing me to see, only what pertains to me
Believing I'm alive when I'm still dead
Limited to earth, unable to find out my worth
Cause I… can't see past my own vanity
If I'm not included, then I just have to remove it
From my mind because it has to be in sanity
Oh wretched man that I am, who will deliver me
From the body of this death
Can I even factor, that I've only been an actor
In this staged interpretation of this day
Focused on the shadow, with my back turned to the light
Too intelligent to see it's me in the way
What a paradox, having God trapped in a box
All this time professing to be spiritual
Naturally pretending, that I'm actually defending
God through my facade don't need material
Oh Jerusalem, wash thy heart from wickedness
That thou may be saved from thy deception
How long, shall thy face those lies within thee
Oh Jerusalem, keeping thee from perfection
Submit to truth, leave the deception of thy youth
So we could walk in the council of authority
Forget the proof, our generation so aloof
Only follow in the steps of the majority
Trust in the Lord, with all thy heart
And lay not to thine, oh an understanding in all thy ways
Acknowledge Him, and He shall correct our paths
Be not wise in thine own eyes and you can follow him
We judge and condemn, just as ignorant as them
Who religion tells us that we should ignore
Perpetrating we're in covenant with Him
Exposed by the very things that we adore
We grin and shake hands, then lay ambush for the man
Who has a different point of view then us
Infuriated cause he doesn't understand
Bringing up those things we don't want to discuss
Why still do evil, we don't know how to do good
Walking on in darkness running from the light, ey
Led to believe, because we live in neighborhoods
Telling us what's going on will be alright
Oh so repressed, so convinced that I was blessed
When I played with my game of Monopoly
Oh to suggest, that my life is still a mess
Who reveal the pride I'm hiding is what's stopping me
Oh Jerusalem, wash thy heart from wickedness
That thou may be saved from thy deception
How long, shall thy face those lies within thee
Oh Jerusalem keeping them from perfection
Abide in me and I in you, as the branch cannot bare
…fruit of itself except in the vine
I am the vine, ye are the branches, He's in live in me
And I in him, the same bring forth much fruit
Without me, you can do nothing
Oh Jerusalem, you're traditions have deceived you
I've chosen you, you haven't chosen me
Do whatsoever, you asking my name he may give to you
But in vain they call my name
teaching doctrines just the same
Justified among themselves
But God know with the heart, what man esteemed as smart
Is an abomination to Emmanuel
Just repent, turn from selfish motivation
So iniquity will not cause your demise
Make you a new heart and a new spirit
…for why would he die
Oh Jerusalem, please tell me why
I have no pleasure in the death of him to die
Says the Lord God where forth turn yourselves and live
It's not the talkers, but the walkers and his word
Are the only ones the Father will forgive
Oh Jerusalem, wash thy heart from wickedness
That thou may be saved from thy deception
How long, shall thy face those lies within thee
Oh Jerusalem, providing you no protection
Oh Jerusalem…
———
War In The Mind or Freedom Time
— [Singing Chorus]
Everybody knows that they're guilty
Everybody knows that they've lied
Everybody knows that they're guilty
Resting on their conscience eating their inside
It's freedom, said it's freedom time now
It's freedom, said it's freedom time now
Time to get free, oh give us yourselves up now
It's freedom, said it's freedom time
[First and only verse]
Yo, there's a war in the mind, over territory
For the dominion
Who will dominate the opinion
Skisms and isms, keepin' us in forms of religion
Conformin' our vision
To the world churches decision
Trapped in a section
Submitted to committee election
Moral infection
Epidemic lies and deception
Insurrection
Of the highest possible order
Destortin' our tape recorders
From hearin' like under water
Beyond the borders
Fond of sin and disorder
Bound by the strategy
It's systematic depravity
Heavy as gravity
Head first in the cavity
Without a bottom
A faith, worse than Saddam
Once got him
Drunk of the spirits
Truth comes, we can't hear it
When you've been, programmed to fear it
I had a vision
I was fallin' in indecision
Apollin', callin' religion
Some program on television
How can dominant wisdom
Be recognized in the system
Of Anti-Christ, the majority rules
Intelligent fools
PhD's in illusion
Masters of mass confusion
Bacholors in past illusion
Now who you choosin'
The head or the tail
The bloodshed of male
More confidence in the tale
Conference is in Yale
Discussin' doctrines of Baal
Causin' people to fail
Keepin' the third in jail
His word is nale
Everything to the tree
Severing all of me from all that I used to be
Formless and void
Totally paranoid
Enjoy darkness as the Lord
Keepin' me from the sword
Block for mercy
Bitter than purgatory
Hungry and thirsty
For good meat we would eat
And still, dined at the table of deceit
How incomplete
From confrontation to retreat
We prolong the true enemys defeat
Death to the ascendancy
Causin' desperation to get the best of me
Punishment 'til there was nothing left of me
Realizin' the unescapable death of me
No options in the valley of decision
The only doctrine, supernatural circumcision
Inwardly, only water can purge the heart
From words that fiery darts
Thrown by the workers of the arts
Iniquity, shapen in
There're no escapin' when
You're whole philosophy is paper thin
In vanity
The wide road is insanity
Could it be all of humanity
Picture that
Scripture that
The origin of a man's heart is black
How can we show up for
An invisible war
Preoccupied with a shadow, makin' love with a whore
Achin' in sores
Babylon, the great mystery
Mother of human history
System of social sorcery
Our present condition
Needs serious recognition
Where there's no repentance there can be no remission
And that sentence, more serious than Vietnam
The atom bomb is Saddam and Minister Farakkhan
What's goin' on, what's the priority to you
What authority do we do
When the majority hasn't a clue
We majored in curses
Search the chapters, check the verses
Recapture the land
Remove the mark from off of our hands
So we can stand
In agreement with his command
Everything else is damned
Let them what is understand
Everything else is damned, let them with ears understand
[Singing Chorus]
It's freedom, said it's freedom time now
It's freedom, said it's freedom time now
It's freedom, I'ma be who I am
It's freedom time, said it's freedom time
Everybody knows that they've lied
Everybody knows that they've perpetrated inside
Everybody knows that they're guilty, yes
Resting on their conscience eating their insides
Get free, be who you're supposed to be
Freedom, said it's freedom time now
Freedom, said it's freedom time
Freedom, freedom time now
Facebook Comments