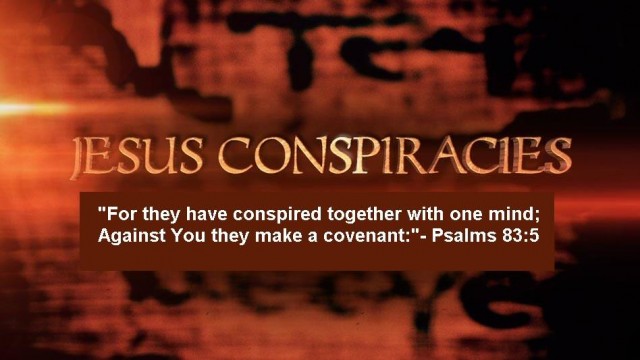 It is the small things in life that counts, the near and the dear. «be in the world, but not of the world» (John 17:14-15). Goodbye World for today. I care not for your decent into the abyss. It is NOT influencing me. You go your way, I go My Way.
There is absolutely NOTHING the Illuminati, the Bilderbergers, the Trilateral Commission, no Kings nor clowns, and all Khazar Luciferian organisations combined can do about my choices OR my thinking and feelings (1 John 5:19). I am completely FREE to choose my Spirit as I see fit for myself. Your depraved spirit have NO power over me. My Spirit sour high above you, observing your silly games and conspiracies against Man and the Most High, – will be in vain. You are destined to lose. Loosers.
«For what is a man profited, if he shall gain the whole world, and lose his own soul? or what shall a man give in exchange for his soul?» – Matthew 16:26
The Gospel of Christ symbolical laid out in the crucifiction on Galvary is that it is better to sacrifice the carnal body to The Synagogue of Satans (Rev. 2.9 and Rev. 3.9) evils, than to loose both the body AND eternal soul (IF the soul is awaken and reborn in Christ, as a Spirit).
«Even though I walk through the darkest valley, I will fear no evil, for you are with me; your rod and your staff, they comfort me.» – Psalm 23:4
Home is where the heart is. My permanent home is not here in this World. A different set of values in this song than the modern Khazar mind programming industry of todays music industry, Luciferian programming.
MANY will have their FAITH tested in our time. Will they as Peter deny Christ to conform, and be outside the protection? Or will they see their inherent fear who is causing them to behave that way? Will they weap, and repent, as Peter when he rememberred Jesus told him upfront, and try to do the right thing, in spite of the fears? Humans are weak, but Christ is powerfull. Do we have Christ in us, or are we trying to be brave alone and succumb to satanic cowardice?
«For God gave us a spirit not of fear but of power and love and self-control.» – 2 Timothy 1:7
«Fear not, for I am with you; be not dismayed, for I am your God; I will strengthen you, I will help you, I will uphold you with my righteous right hand. « – Isaiah 41:10
«Teaching them to observe all things whatsoever I have commanded you: and, lo, I am with you always, even unto the end of the world». – Matthew 28:20
John Denver sings about the only carnal 'Heaven' and Co-Creation we can experience in this World, still it is just a small reflection of the real thing, but good exercise to experience the bigger reality of the same, multiplied.
«For they have conspired together with one mind; Against You they make a covenant:«- Psalms 83:5
«The kings of the earth take their stand And the rulers take counsel together Against the LORD and against His Anointed, saying,…» – Psalm 2:2
I don't take it personally. They want power, they want money, the want CONTROL. They want my soul also of course like everybody's else, but my affiliation with another Spirit than themselves give me the protection I want, the ONLY protection there is, against their evil scheme. My personal victory over Them.
«Behold, I give unto you power to tread on serpents and scorpions, and over all the power of the enemy: and nothing shall by any means hurt you.»- Luke 10:19 KJV
Spiritual laws, as they are well aware of as myself knows this spiritual laws, they can do NOTHING about it, they are actually living in another universe than myself, even though we share the physical world, a Spiritual realm completely opposite in form and manifestation.
If I would have chosen their realm/'spiritual' Wordly carnal dimension of matter and darkness, we would be One in their manifestation, but we're NOT. Their demons must flee from me, I have a Protector and a Redeemer in the spiritual realms where the war for our souls have it's roots (Ephesians 6:12) (John 17:15), who is the Light of the World (John 8:12). They have their realm. I have mine.
I prefer to be One with Christ, and others in Christ, and those only. That's a choice, in full awareness of pro and cons. By my free will. It is abosulutely NOTHING anybody in this godforsaken World can do about it. That pleases me. I AM, me 🙂
God in this inherent process is just sorting the wheat and the tares, using the satanists in the process as tools of Judgement of a fallen people and nations (Habakkuk 1:5–11, Isaiah 10:5).
«Gather ye together first the tares, and bind them in bundles to burn them: but gather the wheat into my barn» (Matt. 13:24-30).
«As for you, you meant evil against me, but God meant it for good in order to bring about this present result, to preserve many people alive«. – Genesis 50:20
"For those who love God all things work together for good, for those who are called according to his purpose." – Romans 8:28
Goodnight, laying this «tired old body down».
Relevant
How to become a Sovereign Individual
http://www.riksavisen.no/how-to-become-a-sovereign-individual/
'Peoples Power' is a ruse
http://www.riksavisen.no/peoples-power-is-a-ruse/
Kjærlighetens Rike (Kingdom of Love)
http://www.riksavisen.no/?p=5991
The authors other english articles:
http://www.riksavisen.no/?tag=jarle-english
Spread the love - Sharing is caring